As seamstresses we get to be our own stylists, for better or for worse. Therefore, as part of my Silhouette Project, I asked stylist and print guru Reachel of the Cardigan Empire to help us all with selecting print fabrics.
1. Seamstresses are spoiled for choice. When looking at walls of printed fabrics or racks of clothing, how do you start narrowing down your choices?
Whenever I'm working with a client, the first thing I do is identify their profile.  A profile consists of 4 primary categorizations: body type, complexion, signature style, and lifestyle.  Let's say we have a client with a lower figure, deep autumn complexion, a penchant for modern stylings, and a formal business profession.  First we need to envision where the print will be applied.  If the print is to be sewn into trousers, the colors should be dark and the pattern subtle.  We don't need to decorate our broadest areas, just streamline them.  If the fabric is to be sewn into a top, any motif will work but the colors need to be warm and rich.  Any pastels should be overlooked as pale, dusty hues next to her face will drain her coloring.  Next we can start looking specifically at personal preference.  If she's modern, she can breeze past the sweetly feminine florals and the glamour saturated animal prints.  She wants clean, graphics including color blocking and abstract silhouettes.  Sometimes we can appreciate a print but we still won't wear it if it isn't in our nature.  Finally, we need to marry our prints to our lifestyle.  For a formal business setting, we'd eliminate anything too narrative.  The pineapple motif skirt is perfect for a barbecue but is going to reduce your credibility in the board room.
2. Are there any hard and fast rules that guide your choices when finalizing prints for your wardrobe?
Most of my garment choices are based on a simple 1-10 evaluation.  Unless I can say an item is at least an 8, I don't keep it.  But a big portion of my decision lies in whether it resonates with my signature style.  I've defined my personal styles as: colorful, playful, feminine, graphic, unexpected, crisp, and tailored.  (read and see more here http://www.cardiganempire.com/2012/03/define-your-signature-style-part-1.html)
3. When planning several print garments for a cluster, how do you know if they go together?
The easiest way to mix and match prints within a cluster is to choose items with a common color.  So you can have a ocher, flame, and navy floral paired with a cream and navy polka dot.  One of the prints should be the starring lead and one should be supporting.  In the case described here the floral would be the lead because it has more colors and a busier motif.  The polka dot would be supporting because it is a simple, classic pattern with fewer colors.
4. For someone first learning how to use prints in their handmade garments, what is the "must-have" or "go-to" print that flatters most women? What is the hardest print type to wear (excluding crazy novelty prints like kittens with pink bows)?
Gingham and polka dots are extremely versatile and easy to mix into a wardrobe.  Plaid is a slightly more advanced runner up.  Stripes are utterly classic but can be tricky, mostly because of what they do well.  Stripes compel our eyes to visually measure.  This is great when you want to say amplify the dainty undulations of bust but can be less than complimentary when applied to a fuller waistline with a few secondary/tertiary curves.
5. What article of clothing is your favorite when made in prints? What article of clothing should never be made up in to a print?
Skirts are easy candidates for prints because they offer a broad uninterrupted platform for the print to populate.  Trousers, on the other hand, have more pitfalls.  They have to weave in out of thighs, around bottoms, scale crotches.  It's a complicated business and sometimes prints get in the way.  I wouldn't say never do a print on a pant, but I would say it's for advanced users only.
6. What is you favorite print and how do you like to wear it?
I don't know if I could pick just one print, but I do love a good doubling up of prints.  I commonly wear two to three at a time. Right now I am loving stripes on stripes or dot on dot.  The trick is to vary the scale.  The combination doesn't work as well if they are the same size: one should be smaller, one should be larger.
Now several of you submitted reader questions, and Reachel helpfully answered them!
A) What happens if I am between two color palettes? How do I decide which one works best for me?
If you are trying to decide on your personal color palette, the best strategy is to color drape.  You can do this with solid colors in your closet or solid fabrics in your sewing closet.  Drape the color right under your chin and try to figure out which are the most and least complimentary shades and varieties.  Good colors will even the complexion and help your natural features to glow.  Poor colors will draw attention to imperfections and either leave you overwhelmed or drab/sallow.  However, if you are having a hard time deciding between two categories say cool and delicate (summer) and cool and brilliant (winter), maybe you are in fact between them.  A cool summer is on the border between summer and winter and shares qualities of both.  Also, did I mention that if you love a color that's not in your palette, try it in a print.  I love mint right now, but my skin hates it.  So I got a cream blouse with mint bows.  The cream still flatters my skin and I can sneak a pretty little mint in too.
B) I like her ideas for casual wear, but how would I add signature style to work clothing?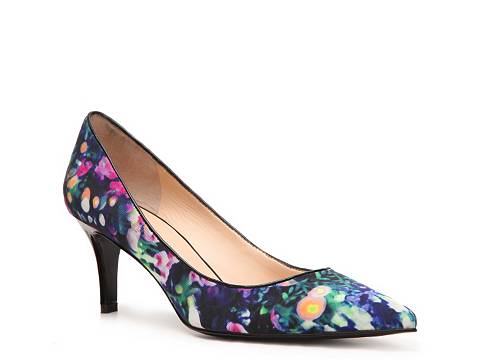 For a lengthy answer, I highly recommend this post-http://www.cardiganempire.com/2012/01/what-to-wear-to-job-interview.html.
However for a short answer, take what you love and minimize it.  Let's say you love romantic equestrian.  Rather than donning a blouse covered in roses and horses, perhaps a pair of horse earring posts and floral heels would identify you without deteriorating your professional merit.  Accessories are a safe avenue for expression in the business world.
C) How do you decide which hem length is the most flattering for skirts? Any guidelines?
About an inch above to an inch below the knee is the most universally flattering hemline.  As your leg's natural breaking point, you aren't eating into the length of your legs.  And longer is always, always leaner.  For the rest of the hemlines from minis to midis to maxis is driven by leg circumference. You don't want the skirt to hit at a wide area on your leg (i.e. a mini that hits at the broadest width of your thigh or a midi that cuts at the fullest part of your calf).  You want a line to highlight a narrowing point.
D) I need a jacket for winter. What kind of jacket should I be looking for if I am a pear?
You want a coat that outlines your waist without amplifying your lower half.  So no downy parkas banded at the hip giving you a bulky snowman top and overexposed hips.  Instead opt for trenches or top coats that nip in at the waist and end at the knee.  The shortest you want your jacket is the widest part of your hips.  Ending a jacket at this point cuts the area in half and visually minimizes it.
Reachel's blog (www.cardiganempire.com) is chock full of great tips including everything from signature style guidelines to selecting the perfect swimsuit and she frequently posts companion videos on her youtube channel (http://www.youtube.com/user/reachelbagley). So check out all her great advice! I am planning on using her tips and tricks to improve my own style choices and really create a style philosophy!
If you really need more proof of her awesomeness, Reachel worked for Anthropologie as a personal stylist for 6 years, and has been consulting with clients on fashion through Cardigan Empire for the last four.  She also teaches Wardrobe Strategies at a college in her area. I wish my college had fashion classes like that when I was an undergraduate. I probably never would have made shiny neon orange terrycloth pants but that is another story!